CWRRA is an Amateur Radio repeater group for "Region 10" of Western Colorado, which consists of Delta, Gunnison, Hinsdale, Montrose, Ouray, and San Miguel counties.
We currently have two 2m ham radio repeaters set up in the region, and are working on linking them with each other and partner repeaters in the state's emergency management All-Hazards West Region. This area is also known as Colorado's Region 10, a league of local governments established to support economic development and planning. These are open repeaters for general use, which is intended to keep them exercised so that they may be utilized in emergency situations.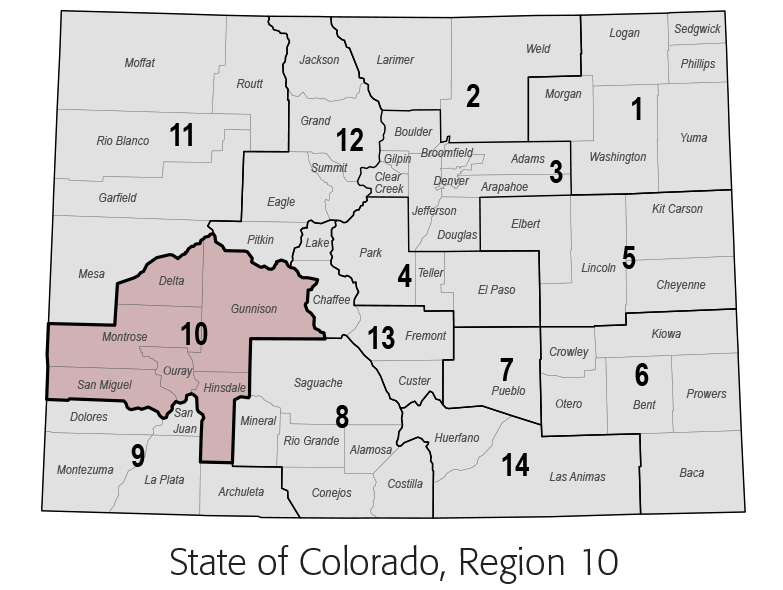 Members and Repeaters
The three Directors of the CWRRA take care of everything as volunteers:
Chris DePuy, WBØITG: Montrose County Sheriff's Posse; Montrose RACES
Matt Goetsch, KDØNUP: City of Montrose/Montrose Emergency Telephone Service Authority
Randy Cassingham, KØRCC: Ouray County EMS and Communications
Voting Members at Large:

Kit Cassingham, KØKIT
Lisa Gotsch, KDØNUO
Flat Top
Covers the south portion of the Uncompahgre Valley
Located on the City of Montrose tower atop Flat Top hill just north of Montrose at -107.854677, 38.516882
6,290 ft elevation, with antenna ~50 ft AGL
Ham 146.790- MHz, no tone or code implemented at this time
Provided/owned by the City of Montrose
Currently offline pending move to new tower.
Raspberry
Very wide area of coverage over the Uncompahgre Plateau and beyond
Located on Montrose County's Tower 8, at the Raspberry tower site atop the Uncompahgre Plateau at -108.203542, 38.313823
9,960 ft elevation, with antenna ~125 ft AGL
Ham 146.910- MHz, 107.2 Hz tone
Provided/owned by the City of Montrose.
Coming Soon: Ouray
Overlooking Ouray and covering into many jeeping areas, CR 361, Red Mountain Pass
9,245 ft elevation
GMRS Channel 21 (462.700/467.700 input), Tone 123.0. Valid FCC license required. Follow the rules, use your callsign.
This is primarily a rendezvous and emergency calling channel for jeepers. Please move off to a simplex GMRS channel as soon as you can to leave the channel open. Thank you!
Provided/Owned by Ouray County
When? Spring 2023
Coming Soon: Ridgway
Super coverage in the Ridgway-Ouray valley, and up toward Dallas Divide/Hastings Mesa.
~8,000 ft elevation
Ham 146.73- MHz, 156.7 Hz tone
When? When we can get hardware and weather to cooperate at the same time.
(Last update 27 January 2023 -KØRCC)